Your display will be perfectly safe - Screenshield!
Protective film with a lifetime warranty.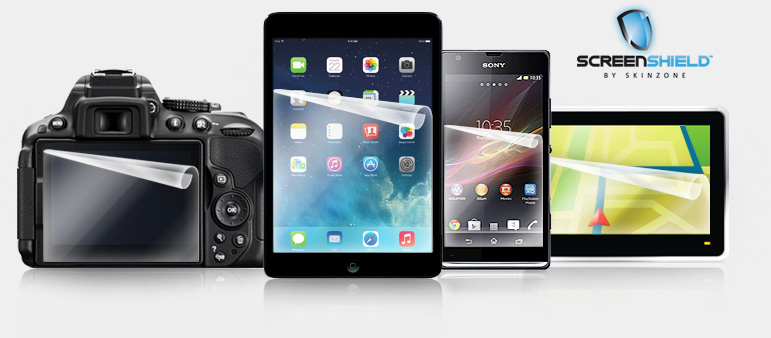 Choose type of protection for your display
ScreenShield Tempered Glass
Select your device




This can help you: Choose from the most popular devices
New in our portfolio
Acer ICONIA TAB B1-A71 Acer ICONIA TAB W510 Acer ICONIA TAB W700 Alcatel One Touch 903/903D Amazon Kindle 5 Blackberry Z10 Canon EOS 30D GoClever Fone 500 GoClever Gamepad 7 GoClever R83.2 mini GoClever TAB M713G GoClever TAB R105BK GoClever TAB R70 Goclever TAB R76.2 Huawei Honor 2 U9508 LG Nexus 4 LG Optimus G E975 Nikon D90 Nokia Asha 308 Nokia Asha 309 Nokia Asha 311 Nokia Lumia 620 Samsung Galaxy S4 i9505 Samsung Ativ S i8750 Sencor Element 8 V3 Sony Alpha NEX-5 Sony Alpha NEX-5N Sony NWZ-F805 Sony Xperia E Dual Sony Xperia Tipo Dual Sony Xperia V Sony Xperia Z Tablet
What is a Screenshield™?

A combination of 100% protection and the option of a personalized image on the back side of the device from our theme gallery guarantees you uniqueness, originality and protection for your device.
Why Screenshield™ ?


- 100% protection against scratches

- Extreme durability with full transparency

- Our film will not change your device's display colours

- Your device display with Screenshield™ protection gets less greasy

- Screenshield™ covers existing scratches

- Lifetime warranty for the film
Our clients wrote about us
Join us and watch our news